Jump to recipe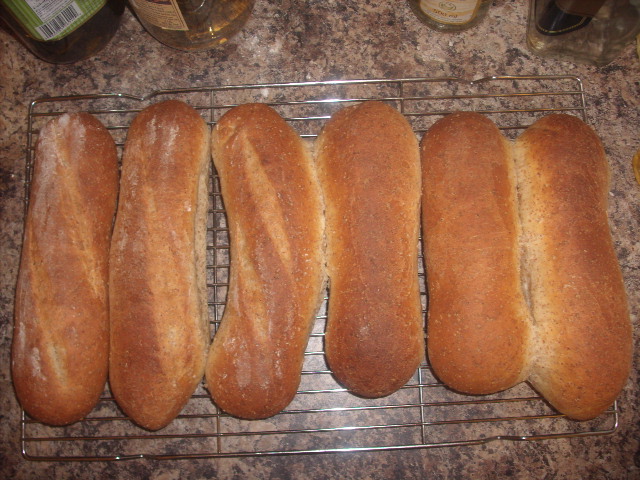 This is the first recipe I created, it took 4 tries until I felt that I had perfected it. I toast the wheat germ and cracked wheat first, both for about 5 minutes on medium low heat. I find that using honey instead of sugar gives the bread a slightly sweeter flavour. This bread is very soft and works well as a loaf for sandwiches, or buns for hamburgers, hotdogs and sausages. In the future I plan on making a 100% whole wheat version of this recipe.
I've included a link to the spreadsheet that has the bakers percentage at the bottom of this post.


Cracked Wheat and Wheat Germ Sausage Buns

Ingredients
Poolish
144 g Flour
144 g Water
1/4 tsp Yeast
Final Dough
288 g Poolish
287 g Flour
78 g Water
5 g Salt
2 g Yeast
5 g Honey or sugar
40 g Cracked wheat
28 g Wheat germ
51 g Egg (approx. 1 large egg)
Instructions
Poolish
The night before, mix 144g flour with 1/4 tsp yeast, add 144g water and mix until all the flour is hydrated and cover bowl. Let sit on counter overnight
Cracked Wheat
Cover the cracked wheat with just enough water in a pot to cover
Bring to a boil then cover the pot and remove from heat
Let sit until softened, about 10 minutes
Uncover pot and put in the fridge to cool it down, or make it in advanced so it has time to cool down.
Final Dough
Mix together 287g flour, 5g salt, 2g yeast, 28g wheat germ, 40g cracked wheat and 5g honey or sugar
Add 78g water and one large egg, stir to combine
Put dough on to a lightly floured or oiled surface and knead for about 20 minutes, or use a stand mixer with the dough hook for about 10 minutes
Put dough in a lightly oiled bowl, cover and let rise for an hour or until doubled in size
Punch down dough and cut into 6 140g pieces
Lightly flour your work surface and roll out the dough
Roll it back up, and set it on a baking sheet seal side down
Cover and let rise for about 40 minutes
Preheat oven to 218C/425F and bake for 15 minutes or until the internal temperature is 90C/195F
© 2023 Copyright Garden of Kneadin'
View Bakers Percentage spreadsheet.
If you'd like to use this recipe to make a specific amount of dough, you can download the spreadsheet from Google Docs (download as Excel or OpenOffice) and enter a new weight into the Desired Weight cell at the bottom.
I've submitted this post to YeastSpotting.